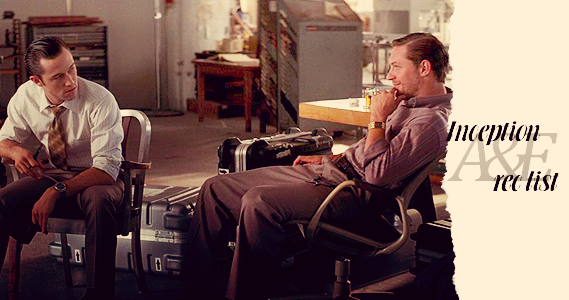 Last Updated: 28/08/2012
My Arthur/Eames reclist-posing-as-an-Inception-reclist.
I've started this because I am tired of losing the fics I love among endless bookmarks/memories/simply forgetting it. It follows the same idea as my
Big Damn Suits Reclist
and
Big Damn Holmesian Reclist
(which is currently not being updated).
So like the others:
- Unless stated otherwise, everything here is Arthur/Eames (Predictable? Me? Never!).
- There will be porn. Everybody got that? Good.
- Only complete fics will be listed here (WIPs will be added once they are complete).
- You should
definitely
can also send me recs. Actually I would love you if you sent me recs.
- Please don't be offended if your fic isn't listed here - it doesn't mean I didn't like it. (In the case of this fandom, I probably haven't read it. I am ashamed of how late I joined the Inception fandom)
- Sequels are listed underneath the original story and marked with ♦
All the Rules to Break
by
foxxcub
(AU | NC-17)
A notorious serial killer returns after a three-year hiatus, reminding Detective Arthur Moss of the infamous case he couldn't close. But when the FBI becomes involved, Arthur is forced to work side-by-side once again with Special Agent Daniel Eames, a man who knows Arthur better than Arthur himself will ever admit. Both men must confront their past and heal old wounds in order to bring a psychopath to justice.
Breathe Into It
by
rageprufrock
(AU | PG-13)
When Mal leans into his office and asks Eames what he did to his back, he can't exactly say, "the new graphics intern," so he says, "Oh, just stress, love."
Can't Get Enough of You (Baby)
by
Renay
(NC-17)
Eames vanishes from dreamshare and Arthur goes a little crazy looking for him until he stumbles across him -- with a baby.
For You the War Is Over
by
maybe77
(AU | NC-17)
Eames is an RAF pilot shot down in German-occupied France during World War II; Arthur is the French resistance fighter who finds him.
I've Got Nothing To Do Today But Smile (The Only Living Boy in New York)
by
gyzym
(AU | R)
Arthur's a corporate lawyer, Eames owns the coffee shop across the street, and all good love stories start with a quadruple shot latte.
Maybe I'm Already Crazy
by
foxxcub
(AU | NC-17)
Eames broods and hates everything and everyone. Except his English class. Except for his gorgeous, brilliant English teacher.
Paved With Good Intentions
by
unvarnishedtale
(AU | NC-17)
Eames never meant for any of this to happen; he only meant to give his boss's son a ride home from the office Christmas party. But you know what they say about good intentions...
Pet
by
ladyvader
(AU | NC-17)
Arthur is in his final year of high school and finds himself entirely too interested in the new English teacher.