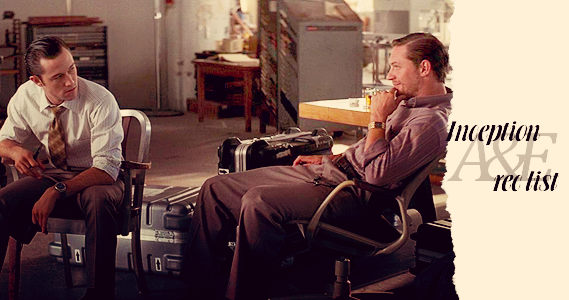 Last Updated: 28/08/2012
My Arthur/Eames reclist-posing-as-an-Inception-reclist.
I've started this because I am tired of losing the fics I love among endless bookmarks/memories/simply forgetting it. It follows the same idea as my
Big Damn Suits Reclist
and
Big Damn Holmesian Reclist
(which is currently not being updated).
So like the others:
- Unless stated otherwise, everything here is Arthur/Eames (Predictable? Me? Never!).
- There will be porn. Everybody got that? Good.
- Only complete fics will be listed here (WIPs will be added once they are complete).
- You should
definitely
can also send me recs. Actually I would love you if you sent me recs.
- Please don't be offended if your fic isn't listed here - it doesn't mean I didn't like it. (In the case of this fandom, I probably haven't read it. I am ashamed of how late I joined the Inception fandom)
- Sequels are listed underneath the original story and marked with ♦
(
Collapse
)